Special Population Care
at Trailhead Family Chiropractic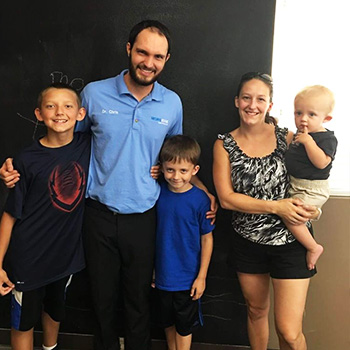 As a father of a young girl, Dr. Chris wants every child to flourish and live life to their fullest. He is particularly passionate about helping special populations: those with ADD/ADHD, behavioral issues, cerebral palsy, neuro-developmental delays, Down syndrome and autism. He has seen firsthand the remarkable effects that chiropractic has on such conditions and others.
Improving Nervous System Function
Chiropractic care
naturally and effectively removes interference in the nervous system, essentially calming it down.
As a result, children who are living with challenging conditions can experience a breakthrough in their lives. Our doctors employ gentle adjustment techniques that help to improve function. We also invite you to read Dr. Chris's research on chiropractic for special populations.
Assisting Through Natural Means
It's gratifying to help our young patients through drug-free methods. We're delighted to have assisted countless kids by natural means.
One of our patients was a boy who was diagnosed as being autistic. He was taking two psychotropic medications along with melatonin. Within just two adjustments the parents were able to take their son off of the drugs and the melatonin. He now can live a life free of medications and not be locked in by autism.
If your child has been living with a challenging condition, we want to help them heal and grow. Contact Trailhead Family Chiropractic today to schedule an evaluation!
CONTACT US »

Special Population Care Murrieta CA | (951) 698-4848