Pregnancy Chiropractic
at Trailhead Family Chiropractic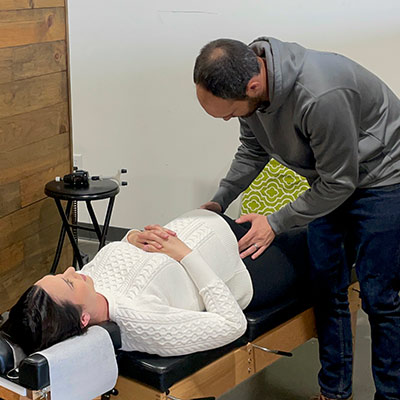 Experience a Happier, Healthier Pregnancy
Because of the stress on the low back and pelvis during pregnancy, being under chiropractic care is an excellent and entirely safe way to minimize pain and discomfort. Chiropractic care also can reduce labor times, decrease the need for interventions such as vacuum extraction and forceps, and allow for a smoother delivery.
Dr. Chris is also certified in the Webster Technique. The Webster Technique is a specific chiropractic sacral analysis and diversified adjustment. The goal of the adjustment is to reduce the effects of sacral subluxation/SI joint dysfunction. In doing so, neuro-biomechanical function in the pelvis is facilitated.
After a few simple adjustments to help a mother's spine and nervous system,
her baby is able to move around more freely in the womb due to less stress on the moms pelvis, ligaments, muscles, and spine.
Contiuing Care After Birth
Postpartum chiropractic adjustments are important too, as your body has just undergone a significant trauma during the birth process. Dr. Chris also specializes in pediatric chiropractic adjustments to give the newest member of your family the healthiest start in life as well!
We'd Love to Meet You!
If you've been searching for a pregnancy chiropractor in Murrieta, we invite you to contact us today to book an appointment!

Pregnancy Chiropractic Murrieta CA | (951) 698-4848